Traveling Cambodia was one of the best experiences I ever had.
When I first visited Cambodia, I had low expectations for the country. I hadn't heard much about it. I only knew it's horrible past and that it wasn't that developed. I didn't expect much. But, traveling Cambodia, I was blown away by how friendly the people were, how beautiful the country was, and how much there was to see and do there. Now, Cambodia one of my all-time favorite travel destinations – and I think it's one of the most underrated countries in the world. I can't speak highly enough about it! Cambodia is still trying to find its way after the horrifying genocide that was carried out by the Khmer Rouge regime (led by Pol Pot) between 1975 and 1979 when about 1.5-3 million Cambodian people were killed. It left a deep, deep wound on the country.
However, here you'll find a place filled with some of the friendliest people I've ever encountered, rich history, delicious food, beautiful coastlines, and a lively nightlife. Spend some extra time traveling through Cambodia exploring the temples (there's more than just Angkor Wat), taking in the deserted, white sand beaches, the growing foodie and gastronomy scene, its complext history, lush jungles, and wonderful culture. (It's also a really cheap country to visit!)
This guide to Cambodia travel guide can help you plan your trip and make sure you maximize your time there!
1.Angkor Wat
These temple ruins are massive, and you'll need a few days to satisfying your inner Tomb Raider and exploring these ruins. If you're not a history buff then just purchase a single-day ticket ($37). Everyone else may want to consider the 3-day ticket ($72), which offers a bit of a discount. Angkor Wat is an ancient city in Cambodia that was the center of the Khmer empire that once ruled most of Southeast Asia. This civilization went extinct, but not before building amazing temples and buildings that were reclaimed by the jungle for hundreds of years. Though this place is always packed with tourists, the area and ruins are still breathtaking to see. The most popular temples are Angkor Wat, Bayon, Ta Phrom, and Angkor Thom. I would recommend getting a multi-day pass so you can visit some of the outer temples where there are fewer visitors. The closest major city and launching pad for tours here is Siem Reap.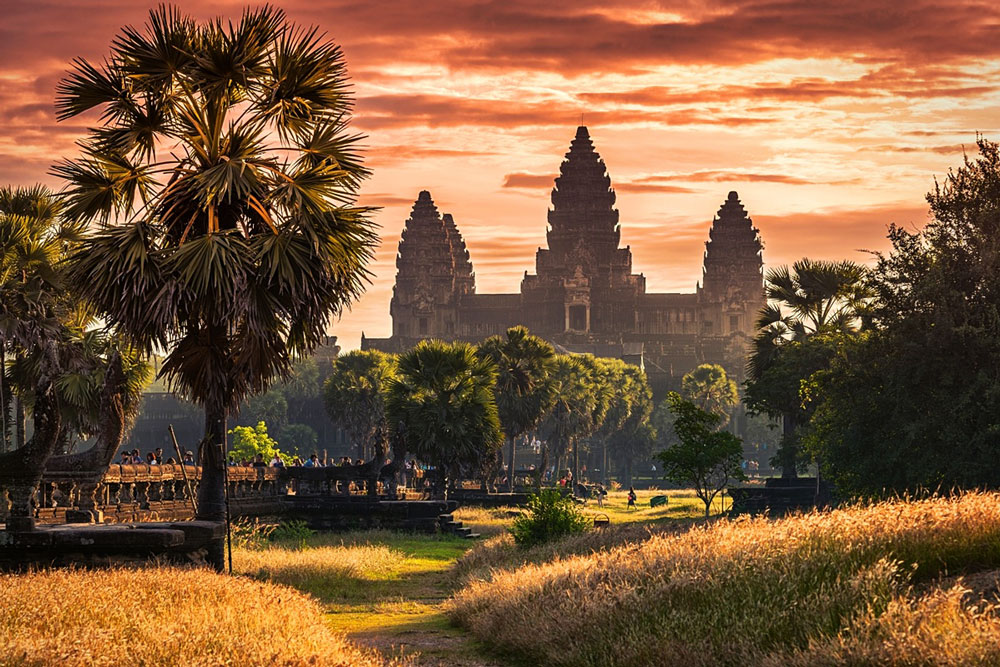 => Use this guide to plan your trip to traveling to Angkor Wat and making the most of your days here.
2.Sihanoukville
- White sand beaches, nearby deserted islands, great diving, seafood, and a heavy nightlife filled with cheap booze make this spot a favorite among travelers. It's not a quiet place to hang out, but it's a good place to drink or use as a base to visit the nearby islands, which are quiet and serene. The city of Sihanoukville was named in 1964 after the ruling prince of Cambodia. Visiting Sihanoukville is usually a must on everyone's travels to Cambodia. Traverling here, coming on a tour, or just coming for a weekend – everyone seems to make it here these days. In the old days, its golden beaches caught the attention of Cambodia's jet-setting elite. The city fell off the map during the tragic reign of the Khmer Rouge and was "rediscovered" and revitalized by the backpacking crowd. It was a lazy beach town until about 2010 when it took off with travelers and is now the premier backpacker party city in Cambodia. Now, it's popular with backpackers, Russians, and Chinese tour groups. While I think the city is a fun place to party, traveling here isn't going to "wow" you. That said, it's easy to avoid the chaos by staying at the lesser-known beaches and away from Serendipity Beach. For quieter times, visit the islands off the coast. You can use this Sihanoukville travel guide to figure out what to do in the region so when you're done drinking beer, you can get a taste of local Cambodian culture.
3. Phrom Penh
- As the capital of Cambodia, this place has a wild west ambiance with dusty streets and a "devil may care" atmosphere. There are a few good attractions to see and an up-and-coming foodie vibe to the city.
- Phnom Penh is the vibrant bustling capital of Cambodia. Situated at the confluence of three rivers, the mighty Mekong, the Bassac and the great Tonle Sap, what was once considered the 'Gem' of Indochina. The capital city still maintains considerable charm with plenty to see. It exudes a sort of provincial charm and tranquillity with French colonial mansions and tree-lined boulevards amidst monumental Angkorian architecture. Phnom Penh is a veritable oasis compared to the modernity of other Asian capitals. A mixture of Asian exotica, the famous Cambodian hospitality awaits the visitors to the capital of the Kingdom of Cambodia.
- Here in the capital, are many interesting touristy sites. Beside the Royal Palace, the Silver Pagoda, the National Museum, the Toul Sleng Genocide Museum, the Choeng Ek Killing Fields and Wat Phnom, there are several market places selling carvings, paintings, silk, silver, gems and even antiques. Indeed, an ideal destination for a leisurely day tour.
- Phnom Penh is also the gateway to an exotic land - the world heritage site, the largest religious complex in the world, the temples of Angkor in the west, the beaches of the southern coast and the ethnic minorities of the North-eastern provinces. There are also a wide variety of services including five star hotels and budget guest houses, fine international dining, sidewalk noodle shops, neighbourhood pubs international discos and more.
- Phnom Penh, like other Asian-City tourist destinations, is in the midst of rapid change. Over the past few years the number of restaurants and hotels have grown considerably and in the last year there had been a huge increase in the number of visitors. Come and see a real original as it won't be the same in a few years.
- Getting to Cambodia, Cambodia has around a dozen overland border crossings with neighboring Thailand, Laos, and Vietnam. But the easiest way to reach Cambodia with the least amount of hassle is via a budget flight to Siem Reap or the capital, Phnom Penh. Plenty of inexpensive flights are available from Bangkok and Kuala Lumpur.
- If your primary plan is to see Angkor Wat, flying into Siem Reap is easiest, although flights tend to be more expensive relative to the short time spent in the air. Phnom Penh is connected to Siem Reap via bus (5–6 hours) and speedboat.